Visit California's Ford Work Truck Headquarters in Stockton, CA
At Big Valley Ford, we're equipped to help you take on bigger jobs by purchasing a new Ford commercial work truck.  When the going gets tough, our Commercial Vehicle Center staff is trained to help you amplify your small business with a new powerful Ford work truck, like the Ford F-350 Super Duty.  Proudly serving drivers along the West Coast, our team is partnered with some of the industry's top truck upfitters to ensure you get the best new truck with all your favorite high-quality features and heavy-duty equipment.
Explore Our Fleet of New Ford Commercial Trucks
No matter what type of business you're in, the experts at Big Valley Ford can help you find a work truck that fits your lifestyle in Central California.  Our new inventory runs the gamut and features a variety of work truck configurations that fit every budget, including popular new work trucks from Ford like the Ford F-250, F-450, F-550, and F-650. Determine which body style is best suited for your work needs and compare the specs of our new lineup of Ford flatbeds, dump trucks, and combo body trucks.
The new Ford F-Series Super Duty lineup is teeming with power, offering a first-class ticket into the world of advanced commercial performance near Modesto.  If you're in the market for a new Ford commercial work truck, look no further than our new inventory at Big Valley Ford.  We can help you discover your next commercial work vehicle and prepare you for wherever your business takes you.  Get ready to work and join us at our Ford Work Truck Headquarters to get started today!
Phone: 800-871-8113
Commercial Vehicle Center Hours: Mon - Fri 7:30a - 5:30p
Ford SuperDuty Lineup - Ford F-250, F-350, & F-450
Experience Ford's Most Capable Heavy-Duty Pickup in Sacramento
The new Ford SuperDuty lineup in Stockton, CA, comprises some of our most capable heavy-duty work trucks ever created.  Certified to help you achieve more and go the extra mile for your clients, Ford's new SuperDuty lineup leaves nothing to chance when seeking out bigger and better job opportunities.  No matter where the roads take you, Ford's new lineup of SuperDuty trucks - from the Ford F-250 to the F-450 - has something unique to offer every driver in Central California.
Built Ford Tough to help you challenge the status quo and travel the off roads confidently, we invite you to indulge in America's best-selling lineup of new commercial work trucks.  Offering a legendary work ethic and high-performance energy that you won't find in any other work truck, Ford's new lineup of SuperDuty models is the best thing to happen to your small business since you took it over.
Ford F-250 Inventory
Ford F-350 Inventory
Ford F-450 Inventory
Download Brochure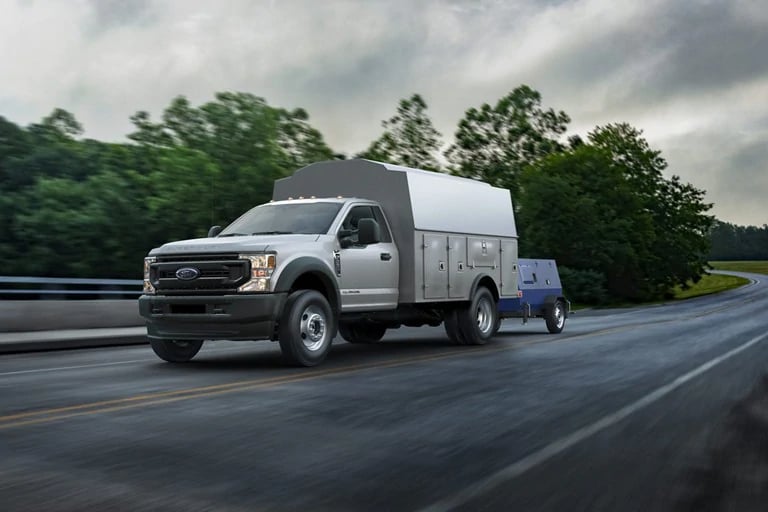 Ford SuperDuty Chassis Cab - Ford F-350, F-450, F-550
Built for the Heroes who Haul Heavy-Duty Loads in Fresno
The difference between you and the competition is rooted in your truck's ability to haul and transport heavy-duty loads with ease.  Built for those who never stop chasing adventure, Ford's new lineup of SuperDuty Chassis cab trucks is there for you when you bite off more than you can chew.  Choose from a selection of invigorating, high-performance engine options and determine whether your work needs benefit more from utilizing traditional gasoline or diesel fuel.
Topping our Ford Chassis Cab model lineup is the awe-inspiring Ford F-550, which features an available 6.7-liter Power Stroke V8 Turbo Diesel Engine and 10-speed TorqShift Automatic Transmission.  Whether you're on the go or working on-site in Sacramento, you owe it to yourself to stay ready for whatever life throws at you with an adaptable, heavy-duty chassis cab truck that can handle anything and everything.
All Work Truck Inventory
Download Brochure
Ford SuperDuty Pro Loader, Straight Frame, & Tractor Trucks - Ford F-650 & F-750
Extremely Durable & Powerful HD Ford Trucks that Never Falter
Enhanced for power and extreme commercial duty, the new Ford SuperDuty lineup of Pro Loader, Straight Frame, and Tractor trucks are bustling with energy and excitement.  Built to help you grow your business and propel your work endeavors to new heights, we invite you to explore our new inventory of extreme haulers, including the Ford F-650 and F-750.  Chase your adventures with raw power and confidence by taking advantage of Ford's newly available driver-assist technology (DAT).
Intelligent by design, the dominating Ford SuperDuty lineup helps you go the extra mile by avoiding accidents and powering you through the toughest weather conditions in Fresno.  Built and manufactured right here in America, you can trust Ford's SuperDuty lineup to fight through adversity and be ferocious without worrying about sacrificing too much comfort.  Hone your work needs and let our fleet of Pro Loader, Straight Frame, and Tractor trucks offer you flexibility around every corner.
All Work Truck Inventory
Download Brochure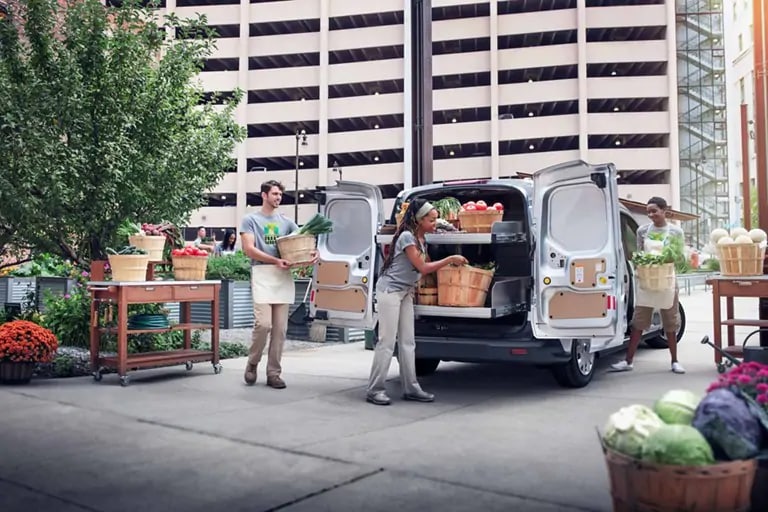 Ford Transit Connect
Combine Your Passion for Life with a Fuel-Efficient Ford City Van
America's best-selling small van, the new Ford Transit Connect is built to help you match your passion for life in the big city.  Whether you're racking up road trip miles or mapping out your local delivery route in Modesto, you owe it to yourself to add the new Ford Transit Connect van to your arsenal of commercial work tools.  Make ends meet and take on the city with a fuel-efficient Ford cargo van that comes standard equipped with your choice of powerful engine options and EcoMode for increased highway economy.
Boasting spacious for up to seven passengers, Ford's new Transit Connect van is the bridge that's poised to help you link your small business to your clients and peers in Central California.  On the long-wheelbase model, the new Ford Transit Connect offers up to 117.5-inches of length, including best-in-class cargo space and alternative fuel options for drivers seeking the epitome of fuel efficiency and carbon neutral performance.
Transit Connect Inventory
Download Brochure
Ford Transit Passenger Van - Cargo, Crew, Cutaway & Chassis Cab Trucks
Approach Every Job with the Proper Angle & Attitude in Stockton
For over 40 years, Ford has been at the top of the commercial workforce by engineering heavy-duty cargo vans for every occasion in Stockton.  Available with Intelligent All-Wheel Drive (AWD), Ford's fleet of Transit Passenger Vans provides you with the capability to take on the roads less traveled with sure-footed confidence.  Choose between one of three advanced engine options and decide which powertrain is best suited for your commercial work needs in Central California.
Equipped with safety and comprehensive city protection, drivers will enjoy Ford's well-rounded collection of Co-Pilot360 Technology features with every new commercial passenger van.  Praised for offering power and peace of mind, we invite you to learn more about your favorite active safety features, including Pre-Collision Assist with Automatic Emergency Braking, Blind Spot Information System, and Trailer Coverage.
Transit Passenger Van Inventory
Download Brochure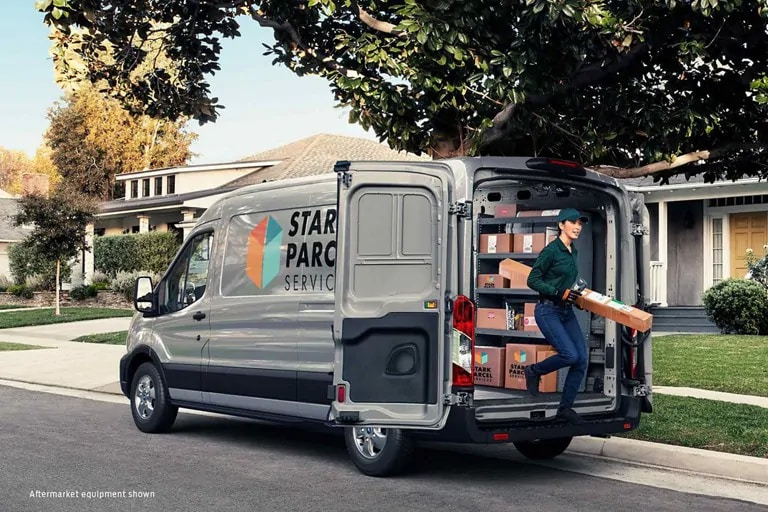 Contact Us to Schedule a Test Drive
For more information about your favorite new Ford commercial work trucks and cargo vans, please give us a call or contact us online at Big Valley Ford in Stockton, CA. Seize every moment and make the most of your commercial work endeavors in Central California with a certified Ford work vehicle that you can trust.  Please call, click, or contact us online to learn more and schedule a test drive of your favorite models today!  We look forward to meeting you!